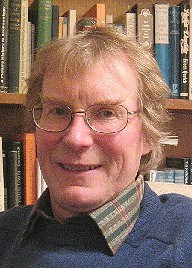 Datum:
zondag 28 juni 2020 (11:00 -12:30)

Several teachers have been approached to give a one-hour talk about the subject that inspired them the most. Today: "What is the 'emptiness' of all phenomena?"
Please register for this talk.
The zoom link is at the bottom of this page.
What is the 'emptiness' of all phenomena?
Emptiness is a central theme of the second phase or 'turning' of the Buddha's teaching, one of the foundations of Mahayana Buddhism. It is most briefly presented in the Heart Sutra, a short but mysterious text we may often chant, but which is not easy to understand. In this talk I would like to clarify its meaning and place it in the context of the Buddhist teachings as a whole, linking it to our personal experience as well as to cutting edge thinking in recent science.
In these extraordinary times many habits, ideas and concepts we have long taken for granted are being challenged, revealing their shakiness and undermining any solidity we may have believed they possessed. This is a gateway to understanding the teachings on emptiness.
About David Hope
Acharya David Hope has been a member of the London Shambhala Centre since its early days in the front room of his home. He attended seminary in 1983 and was then resident Director for Shambhala Training in London for many years. In the 1990's he lived and worked at Dechen Chöling in France, where he was a co-director from 1995-8. From 1999 to 2004 he served on the Shambhala International board of directors.
In 2005 he was appointed an Acharya and has taught all over the world since that time. He is currently a member of the European Donor Group, and one of the trustees of the London Shambhala Centre. He now lives with his wife on the south coast of England.
A summer with online talks
This talk is part of a series that takes place during the summer:
Zoom meeting
Shambhala Amsterdam is inviting you to a scheduled Zoom meeting.
Time: Jun 28, 2020, 11:00 AM Amsterdam, Berlin, Rome, Stockholm, Vienna
Join Zoom Meeting
https://zoom.us/j/96970517097?pwd=eU1oM1BqRElUSU9EY3ZVdzJ0UkMzdz09
Meeting ID: 969 7051 7097
Password: 723508
Heart gift
To give a heart gift to this teacher use bank transfer
IBAN: Shambhala Amsterdam
NL43TRIO0212498037
Bic: TRIONL2U
Please mention heart gift and name of the teacher