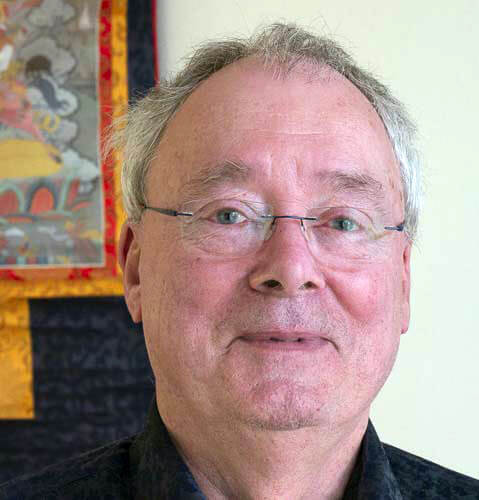 Datum:
zondag 14 juni 2020 (11:00 -12:30)

Leraar :
Acharya Han de Wit
Several teachers have been approached to give a one-hour talk about the subject that inspired them the most. Acharya Dr. Han F. de Wit's choice: Buddhist meditation and its contemplative psychology.
Buddhist meditation and its contemplative psychology
After twenty-five years the Dutch bestseller De Verborgen Bloei (in 13th edition!) is back in the USA with the title 'The Great Within. The Transformative Power and Psychology of the Spiritual Path'. What makes this bestseller topical is its central message: the great spiritual traditions and Buddhism in particular contain their own kind of understanding of the human mind. It contains a contemplative psychology which clarifies our spiritual path and its practices. At this Zoom talk, we will explore the contemplative psychology of Buddhism and what it tells us about our perceptions, thoughts, and (non)awareness; how their interplay creates our everyday experience and how this relates to a hidden blossoming that the Buddha discovered through the practice of meditation.
A presentation on Buddhist meditation and its contemplative psychology, led by Acharya Dr. Han F. de Wit, leading Dharma teacher in the tradition of Shambhala Buddhism and known for the accessible and playful way he expresses the Buddhist vision in our time. Han de Wit is a student of Sakyong Mipham Rinpoche and the late Chögyam Trungpa Rinpoche. He is the author of widely read books on Buddhism and psychology.
Heart gift
To give a heart gift to this teacher use this link:
https://www.paypal.com/pools/c/8pHA5JfXQD
Or by bank transfer
IBAN: Shambhala Amsterdam
NL43TRIO0212498037
Bic: TRIONL2U
Please mention heart gift and name of the teacher
Thank you very much.
A summer with online talks
This talk is part of a series that will take place during the summer.
Zoom meeting
Shambhala Amsterdam is inviting you to a scheduled Zoom meeting.
Topic: Favoriete keuze van... SMCA Zoom Meeting
Time: Jun 14, 2020 11:00 AM Amsterdam, Berlin, Rome, Stockholm, Vienna
Join Zoom Meeting
https://us02web.zoom.us/j/85663744295?pwd=L0pmdkUzS2JPdG9uZnludlkxelVSUT09
Meeting ID: 856 6374 4295
Password: 700642