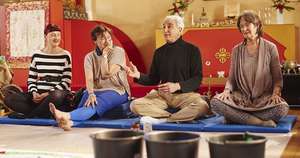 Datum:
vrijdag 10 mei 2019 (20:00 -22:00)
zaterdag 11 mei 2019 (09:30 -18:00)
zondag 12 mei 2019 (09:30 -18:00)
maandag 13 mei 2019 (09:30 -18:00)
dinsdag 14 mei 2019 (09:30 -18:00)
woensdag 15 mei 2019 (09:30 -18:00)

Plaats:
Shambhala Meditatie Centrum Rotterdam
Leraren :
Karin Hooijmans & Herbert Elsky
Coördinator :
Joke Bruijnen-Bonsang
Contactpersoon : Joke Bruijnen-Bonsang
Herhalers/Jongeren/Minima

:
€
160
"Remembering that I will be dead soon is the most important tool I've ever encountered to help me make the big choices in life. Because almost everything just fall away in the face of death, leaving only what is truly important." – Steve Jobs
Preparing for death is a vital part of our "cosmic education" and no one can do it for us. We all will experience the transition of the "great divide", alone.
The truth of death is uncompromising and the great mystery of what happens after death is something that each of us will encounter directly in our own specific way.

Facing death is facing ourselves. It brings us into contact with the basic essence of what life is, who we are, and what is truly meaningful for ourselves and for those we love.
The basic message of contemplating death is how to appreciate and experience our life fully, so that we do not waste this precious opportunity.

What is the relationship of death to consciousness? Does it continue after we die? Can we know?
It is by understanding our own mind, that positive perspectives can open, and deeper insight into reality can be revealed.
In that way contemplating death can become the most important way, "The Supreme Meditation", to truly know ourselves and to appreciate and enhance our life.
Most people avoid talking about death out of fear but it is only by becoming familiar with our fears that we can gain understanding and confidence.
The Program
The program consists of talks, meditation and guided meditations, contemplations, discussions, conversations, writing and creative exercises.
Everyone is invited to share their experience and wisdom.

Topics for discussion and contemplation:
* Honesty about the reality of death
* Death from many different perspectives, various cultures and religions
* End of life care
* The atmosphere for dying, creating a good atmosphere
* Finishing farewells, Physical and psychological completion
* After death care of the body
* Advance directives (final wishes)
* Rituals, ceremonies and funerals
* Grieving
* Renewal. Creating your re-birth
* The role of meditation and contemplation
Herb Elsky werd in jaren '70 kunstenaar-leerling van Chögyam Trungpa. In de jaren '80 kwam hij van Los Angeles naar Frankrijk om het scholingscentrum van Europa, Dechen Chöling, op te bouwen. Tegenwoordig reist hij vandaar naar alle windstreken om onderricht te geven. Nu hij halverwege de 70 is voelt hij de noodzaak om vaker en langer stil te staan bij alles wat te maken heeft met afscheid en sterven.Karin Hooijmans is co-teacher in deze retraite. Zij is ervaringsdeskundige op het gebied van ziekte en dood, begeleidde kankerpatiënten en rouwgroepen, is lerende voor leraar in Shambhala, en werkt in een crisiscentrum.
Shambhala wil graag jongeren stimuleren deel te nemen aan haar programma's. Ben je jonger dan 25 jaar, dan geldt een prijs van 50 %. Als je je meer kunt veroorloven dan graag. Shambhala houdt haar programma's graag toegankelijk voor iedereen. Als je beperkte financiële mogelijkheden hebt, neem dan vóór registratie contact op met de penningmeester [email protected]. We kunnen altijd korting en/of betaling in termijnen afspreken.
Na betaling is je aanmelding definitief. Wij verzoeken je vriendelijk de deelnamekosten over te maken naar NL52TRIO0254677452 t.n.v. Shambhala centrum Rotterdam onder vermelding van Retreat.
Annuleringsvoorwaarden:
Tot twee weken voor aanvang van het programma geldt volledige restitutie.
Daarna tot 2 dagen voor aanvang van het programma geldt volledige restitutie minus 10% annuleringskosten over de programmaprijs.
Annulering 2 dagen of minder voor aanvang van het programma geldt volledige restitutie minus 30% annuleringskosten over de programmaprijs.