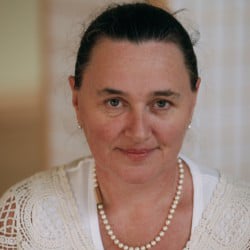 Datum:
zondag 9 augustus 2020 (11:00 -12:30)

" Glorious Practical Impacts of the Teachings on the 6 Realms"
Please register for this talk.
The zoom link is at the bottom of this page.
The teachings on the 6 realms sometimes come across as fantastic, somewhat naive world view. In Shambhala we study this accessible and meaningful material as the 'six styles of imprisonment' and apply it to our modern western lives.
We bestow this imprisonment on ourselves by identifying with intense emotions - so strong, that our world takes on their color and
'
face' and we then perceive this as a real world, where we can't get out. As practitioners, however we have the means to see through the illusion of colors and moods and disrupt the belief in a prison.
About Sabine Rolf
Sabine Rolf studied German literature and philosophy and has a professional background in the Management of Non-Governmental Organizations. She is trained in Recycling Management, Human Resources Management, and Contemplative Psychology. A student of Sakyong Mipham Rinpoche since 1991, she teaches the Shambhala Curriculum, Maitri Space Awareness, and Contemplative Psychology. She is the Director of Practice and Education of Shambhala Europe. Sabine is married, and lives and works in Cologne and other places in Europe.
A summer with online talks
This talk is part of a series that takes place during the summer:
Zoom meeting
Shambhala Amsterdam is inviting you to a scheduled Zoom meeting.
Time: August 9, 2020, 11:00 AM Amsterdam, Berlin, Rome, Stockholm, Vienna
Join Zoom Meeting
Zoom Link
Join Zoom Meeting
Meeting ID: 922 5383 5192
Password: 730437
Heart gift
To give a heart gift to this teacher use bank transfer
IBAN: Shambhala Amsterdam
NL43TRIO0212498037
BIC: TRIONL2U
Or use Paypal to donate:
Please mention heart gift and name of the teacher